200 Mbps Powerline Solution enables HD video and audio streaming - [hardware]
06:37 AM EDT - Jun,28 2006 - post a comment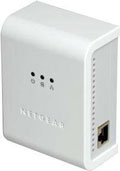 Netgear's new 200 Mbps Powerline HD Ethernet Adapter
turns any AC electrical outlet into an HD-streaming, high-speed ethernet broadband connection, suitable for real-time high-quality video, gaming and VoIP or connecting a personal computer, digital video recorder, game console or other ethernet device to their home network:
Netgear's Powerline HD Ethernet Adapter Kit (HDXB101) is comprised of two Powerline HD Ethernet Adapters (HDX101), an Ethernet cable, and set-up CD. By simply connecting one of the Powerline HD Ethernet Adapters to a router and the other to any Ethernet-ready device (e.g. PC, game console, print server, digital video recorder, or the upcoming Netgear Digital Entertainer), consumers have up to 200 Mbps connectivity without a complicated set-up. The Netgear Powerline HD Ethernet Adapter can also make large file transfers to networked storage devices like the Netgear Storage Central (SC101) up to 12 times faster than previous Powerline networking products. Furthermore, the HDX101 easily co-exists with other Powerline technologies, so that consumers could use their existing, slower units for basic applications, and the HDX101 as an exclusive network loop for high-definition video and gaming.

Netgear's Powerline HD Ethernet Adapter is available with a one-year warranty and 24/7 technical support. The Powerline HD Ethernet Adapter Kit (HDXB101) containing two devices for US$249.99. For consumers needing to connect additional devices to the network, a single adapter (HDX101) is sold separately at an MSRP of US$129.99.




Add your comment

(free registration

required)



Short overview of recent news articles

Jan,24 2022 Game Developer Accuses Real-Life Weapons Manufacturer Jan,23 2022 I Spent $1100 on DisplayPort Cables...for Science! Jan,22 2022 SEC Attempts HIDING Documents !!! Jan,20 2022 Norton Crypto. It's EVEN WORSE than you think.... Jan,20 2022 Russia's Central Bank proposes ban on cryptocurrencies Jan,19 2022 A GPU you might be able to buy... But shouldn't Jan,19 2022 Terence McKenna Metaverse Interview (Virtual Reality) Jan,18 2022 Wipe your Car Windshield with Shaving Cream Jan,17 2022 Protect XRP from Gensler, Beat Inflation wXRP DeFi, Jan,16 2022 NVIDIA Releases GeForce 511.23 Game Ready Drivers Jan,16 2022 The Fatal Flaw in HP's Omen 45L broke me Jan,15 2022 Against the Ice - Official Trailer Jan,15 2022 How Long Can a Tesla Keep You Warm In A Frozen Traffic Jam? Jan,15 2022 Tsunami hits Tonga after giant volcano eruption Jan,14 2022 Solving the huge Rubik's Cube 15X15 in record time Jan,14 2022 Bugatti Chiron on Autobahn - 417 KPH (GPS) On-Board CAM Jan,14 2022 My PC keeps turning off... Jan,14 2022 All of Us Are Dead - Official Trailer - Netflix Jan,13 2022 AMD Radeon Software Adrenalin 22.1.1 driver Jan,12 2022 Massive SpaceX Tower That Will Launch Humans To Mars Jan,11 2022 NVIDIA Launches GeForce 511.17 WHQL Drivers Jan,10 2022 Windows 11 Dev build 22526 focuses on fixes Jan,09 2022 Nvidia GeForce MX350 Test in 20 Games in 2022 Jan,09 2022 2022 Is Gonna HURT! - Fails of the Week Jan,08 2022 The best new laptops of 2022 Jan,07 2022 Everything Samsung revealed at its CES keynote Jan,07 2022 CES 2022 is INSANE for VR and the PSVR2 Jan,07 2022 PS5 next-generation VR system officially named PlayStation VR2 Jan,07 2022 I pray this works...Intel GPU hopes Jan,06 2022 RTX 3050 Vs RX 6500 XT - Which One To Get? Jan,05 2022 NVIDIA announces GeForce RTX 3090Ti and RTX 3050 Jan,03 2022 AT&T predicted the future in 1993 Jan,03 2022 Security Camera Captures The Horrifying Moment A Colorado Wildfire Jan,02 2022 I Inspired This Product! Jan,02 2022 Do you remember the Y2K bug? Microsoft Confirms New Y2K22 Problem Jan,01 2022 Intel Core i5-12400 already on sale Dec,31 2021 Big Tech CEOs share their vision for the Metaverse! Dec,31 2021 Building my new Gaming PC for 2022 (High-end) Dec,29 2021 DDR5 Scalping is SOLVED Dec,29 2021 A DREAM COME TRUE - Ferrari F40 in Monaco! >> News Archive <<